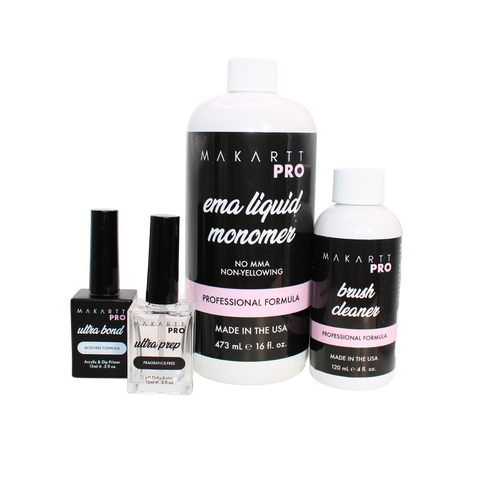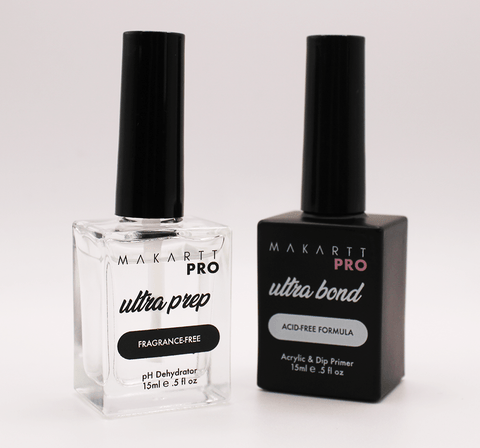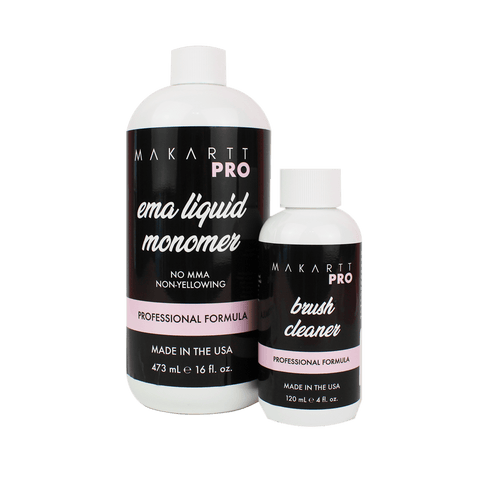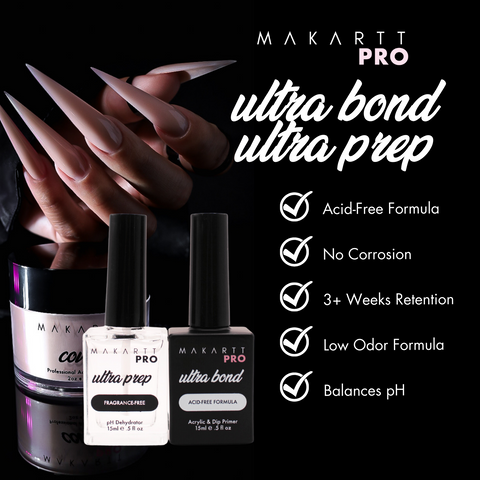 Effortless Application, Seamless Results
Essentials Liquid Bundle
Elevate your nail artistry to unparalleled levels with MakarttPro's comprehensive set of professional-grade products, including the EMA Liquid Monomer, Ultra Bond, Ultra Prep, and Brush Cleaner Formula. Crafted with precision for dedicated nail technicians, each component is designed to enhance your workflow and deliver flawless results.
MakarttPro's EMA Liquid Monomer stands out with its premium formula, meticulously created to be low in odor. This ensures a delightful and comfortable work environment, allowing you to apply acrylic effortlessly and with precision. Immerse yourself in the ease and versatility of this product, tailored to meet the unique demands of your craft, and explore a realm of creative possibilities in nail design. Trust in MakarttPro to deliver a seamless, salon-quality finish that will captivate your clients.
Pair the EMA Liquid Monomer with MakarttPro's Ultra Bond, a crucial component in ensuring lasting and resilient acrylic nails. This bonding agent is designed to create a strong and durable foundation, providing the longevity your clients desire in their nail enhancements. Strengthen your technique and elevate your nail technician game with the reliable performance of MakarttPro's Ultra Bond.
Prepare the canvas for your artistry with MakarttPro's Ultra Prep, a specially formulated solution to prime and dehydrate the natural nail surface. This essential step ensures optimal adhesion and longevity for your acrylic nails. Maximize the lifespan of your creations and achieve a consistently flawless finish with the help of Ultra Prep.
Say goodbye to brush frustrations with MakarttPro's Brush Cleaner Formula. Tailored to effortlessly clean and unclog Kolinsky acrylic brushes, this formula is your secret weapon for maintaining pristine tools. Ensure hassle-free nail creations with brushes that perform at their best every time, thanks to MakarttPro's Brush Cleaner Formula.
Experience the synergy of these professional-grade products from MakarttPro, and let your nail artistry shine with confidence and creativity. Elevate your craft with a set designed for excellence.
What's Inside
Ultra Bond (15ml)
Ultra Prep (15ml)
EMA Liquid Monomer (16oz)
Brush Cleaner (4oz)
Why It's Special
Precision Craftsmanship: Each component is crafted with precision, catering specifically to the needs of professional nail technicians.
Innovation in Formula: The innovative formulas of Ultra Prep, EMA Liquid Monomer, Ultra Bond, and Brush Cleaner Formula redefine the standards of nail care, providing a unique and unparalleled experience.
Versatile Creativity: This kit empowers nail technicians to explore new realms of creativity, allowing them to achieve seamless results with ease.

How to Use
Unlock the full potential of MakarttPro's professional nail products with this step-by-step guide to achieve impeccable results in your nail artistry.

Ultra Prep: Prime and Dehydrate
Begin by applying MakarttPro's Ultra Prep to the natural nail surface. This specially formulated solution primes and dehydrates, creating the ideal foundation for optimal adhesion. Ensure the nail surface is clean and dry before proceeding to the next step.

EMA Liquid Monomer: Craft with Precision
In a well-ventilated space, mix MakarttPro's EMA Liquid Monomer with acrylic powder according to your desired consistency. The low-odor formula ensures a comfortable work environment. With a quality acrylic brush, sculpt and shape the acrylic mixture onto the primed nails. Enjoy the ease and precision that comes with a product tailor-made for professional nail technicians.

Ultra Bond: Strengthen for Longevity
Prioritize the longevity of your nail enhancements by applying MakarttPro's Ultra Bond. This bonding agent strengthens the bond between the natural nail and the acrylic, ensuring a resilient and durable foundation. Brush on a thin, even layer of Ultra Bond and allow it to dry before moving on to the next step.

Brush Cleaner Formula: Maintain Pristine Brushes
After each use, immerse your Kolinsky acrylic brushes in MakarttPro's Brush Cleaner Formula. This specially crafted solution effortlessly cleans and unclogs brushes, maintaining their pristine condition. Ensure your tools are ready for flawless application every time by regularly cleaning and caring for them with this essential formula.

By following this step-by-step guide, you'll unleash the full potential of MakarttPro's professional products, creating stunning, long-lasting nail designs that will leave your clients in awe. Elevate your nail artistry with precision, strength, and reliability – the hallmarks of MakarttPro's premium line for professional nail technicians.
Ingredients
Monomer
2-Propenoic acid, 2-methyl-, ethyl ester
Hydroxypropyl Methacrylate (HPMA)
PEG-4 Dimethacrylate
Dimethyltolylamine
Drometrizole
Fragrance
p-Hydroxyanisole
Bis (t-Butyl Benzoxazolyl) Thiophene
Violet 2 (CI 60725)

Brush Cleaner
Methyl Ethyl Ketone
2-Propenoic acid, 2-methyl-, ethyl ester
Isopropyl Alcohol
Fragrance
p-Hydroxyanisole


Checking local pickup availability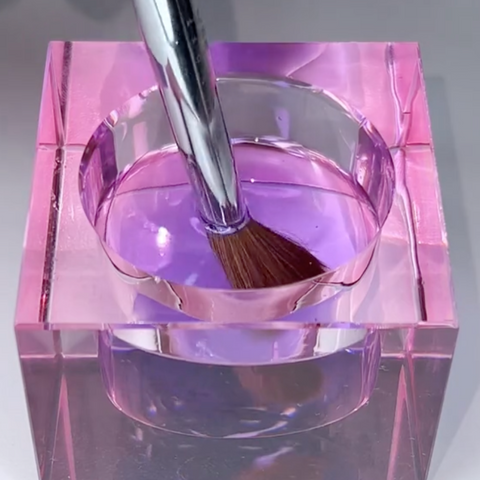 Fully submerge the 100% kolinsky brush in EMA monomer and tap off the side of the dappen dish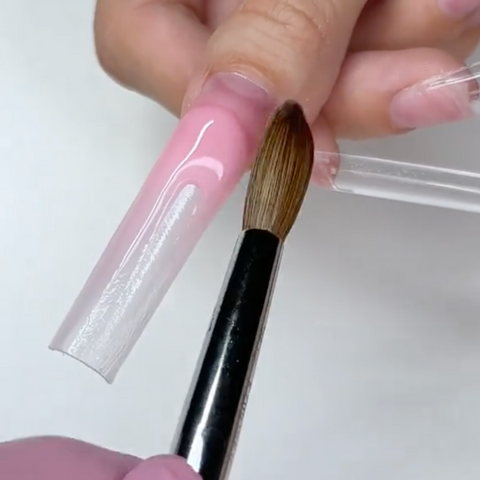 Apply the acrylic to the free edge of the nail to cover the length of the nail. Ensure to not drag the acrylic and focus on the tapping and swiping motion.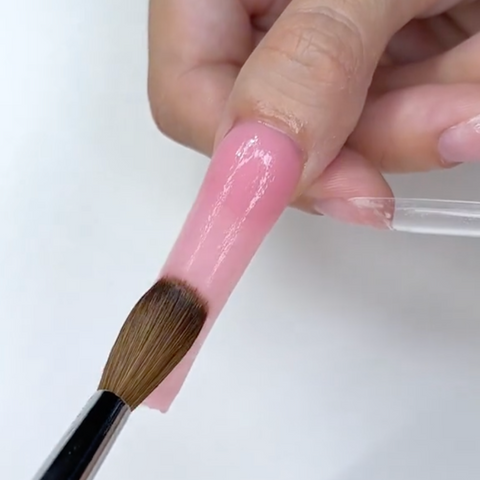 Apply the apex and cuticle bead with medium and small size beads and ensure that the apex is the highest point in the nail.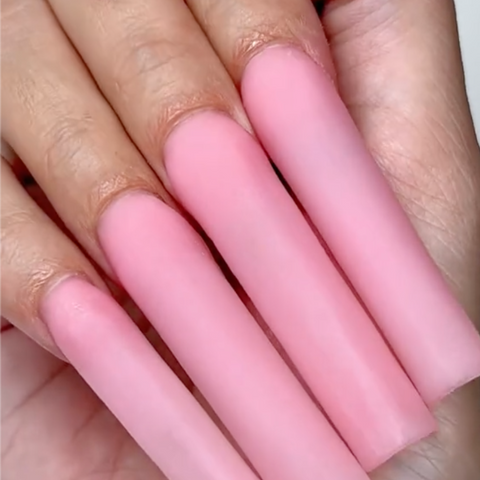 Allow the acrylic to dry by using a hand file to tap on the surface of the nail and listen to the click-y sound to ensure the acrylic is fully dried.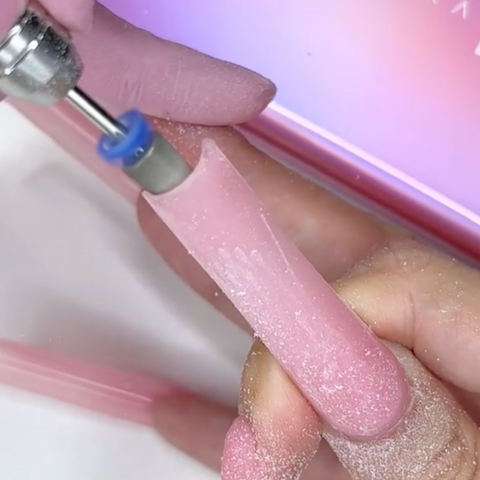 Use a hand file or 5-in-1 bit to shape the acrylic nail for a crispy, straight edge.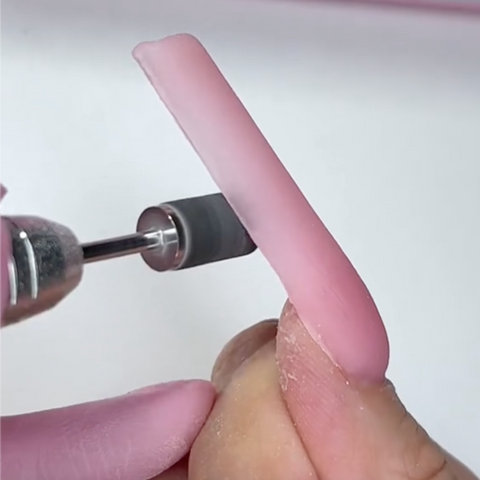 Use the sanding bit to smooth the surface of the acrylic nail and remove any bumps.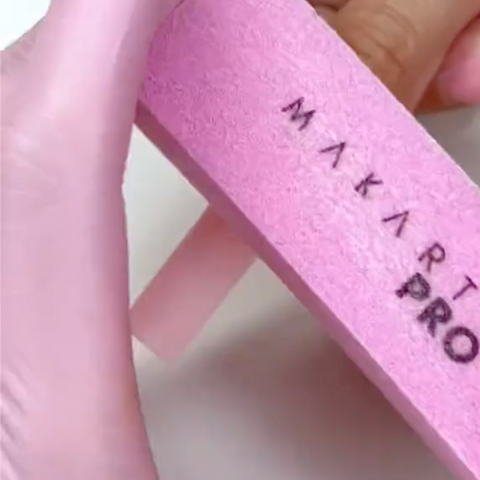 Use a buffer block to remove scratches and buff the surface for top coat or gel polish.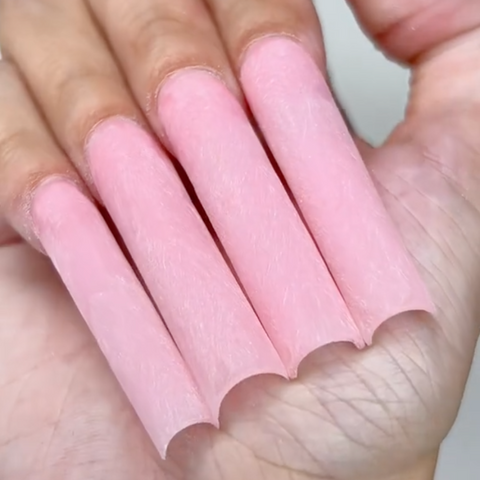 The nail is now ready for gel polish or top coat application.
Frequently Asked Questions
Are MakarttPro products suitable for both beginners and experienced nail techs?
Absolutely! MakarttPro products are crafted with versatility in mind, catering to both novice nail technicians and seasoned professionals. Whether you're just starting your journey in nail art or looking for advanced products to elevate your skills, MakarttPro has you covered with user-friendly formulations and professional-grade performance.
How does MakarttPro contribute to the safety and well-being of nail techs?
At MakarttPro, we prioritize the health and safety of nail technicians. Our products are formulated with high-quality, carefully chosen ingredients to minimize potential skin irritations and allergic reactions. Additionally, our acrylic nail system is designed for easy application, reducing the risk of overexposure and ensuring a comfortable experience for both the nail tech and the client.
Where can I purchase MakarttPro products?
MakarttPro products are available through our official website and authorized distributors. To ensure you receive genuine MakarttPro products and access the latest releases, we recommend purchasing directly from our website or from recognized distributors.
Are MakarttPro products vegan and cruelty-free?
No, MakarttPro products are not vegan. Similar to many other professional beauty brands, our formulations may contain non-vegan ingredients. However, MakarttPro is committed to being cruelty-free. We do not test our products on animals, ensuring the highest standards of ethical beauty practices.
Do you provide Safety Data Sheets (SDS) for your products?
Unfortunately, we do not provide SDS sheets for our products. However, we do offer information about the ingredients used in our formulations on our website.
Do MakarttPro products contain HEMA?
Yes, our products may contain HEMA (2-Hydroxyethyl methacrylate). It's important to note that the concentration of HEMA in our formulations is under 20%, meeting safety standards for professional use.
Total 5 star reviews: 1
Total 4 star reviews: 0
Total 3 star reviews: 0
Total 2 star reviews: 0
Total 1 star reviews: 0
100%
would recommend this product
Product Quality
Rated 5.0 on a scale of 1 to 5
Setting Time
Rated 5.0 on a scale of 1 to 5
Results
Rated 5.0 on a scale of 1 to 5
Ease of Use
Rated 5.0 on a scale of 1 to 5
Barbara S.

Verified Buyer

Reviewing

Essentials Liquid Bundle

Liquid bundle

I absolutely love how the monomer and powder work together, it's the best out of all the products I have tried.
Reviews Loaded
Reviews Added