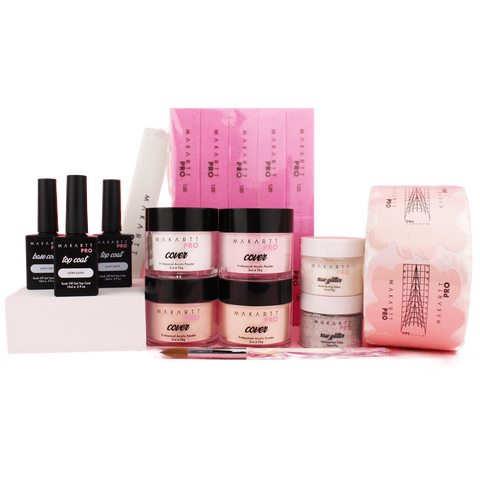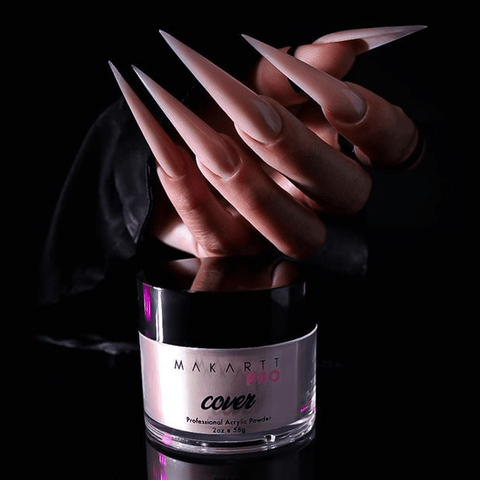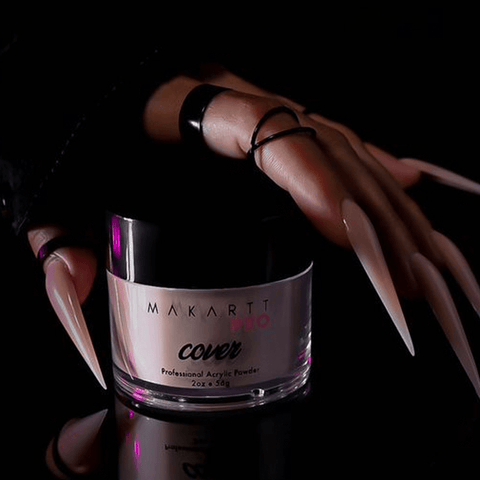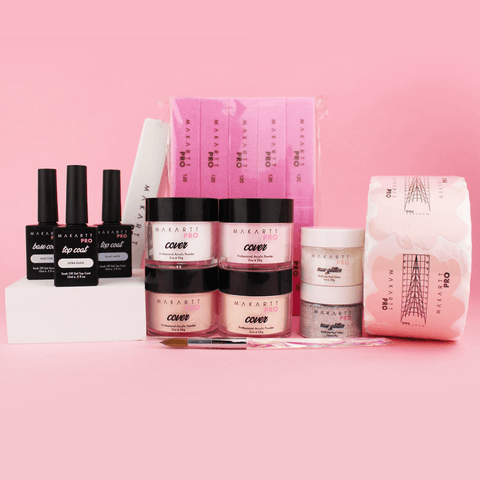 #1 Acrylic & Nail Art Starter Kit
Ultimate Acrylic Sculpting Starter Bundle
Introducing the MakarttPro Ultimate Acrylic Sculpting Starter Bundle, the perfect companion for nail technicians who strive for excellence in providing luxurious nail services. This all-inclusive bundle is carefully curated to offer everything you need to create stunning acrylic nail sculptures and unleash your creative potential.
Designed with the utmost precision and quality, the MakarttPro Ultimate Acrylic Sculpting Starter Bundle encompasses a comprehensive range of professional-grade tools and materials to elevate your nail artistry to new heights.
What's Inside
❤ Top Coat & Base Coat Set / 15ml
❤ Premium Kolinsky Brush / Size #10
❤ Premium XXL Sculpting Forms / 500pcs
❤ Raw Glitters in Sugar Rush & Disco Delight / 1oz
❤ 100/180 Square Nail Files / 10pcs
❤ Buffer Blocks / 10pcs
❤ Cover Acrylic Powders / 2oz: Ivory Lace, Soft Pink, Barely There, Soft Bloom
Why It's Special
MakarttPro's acrylic starter kit stands out from the rest because it's thoughtfully curated with only high-quality, essential products that nail technicians will truly benefit from. Unlike many other brands that often include low-value items, our kit prioritizes practicality and usefulness. Each component is carefully selected to ensure that nail techs receive the tools they need, making it a smart investment for those seeking both quality and value in their acrylic nail journey.
Checking local pickup availability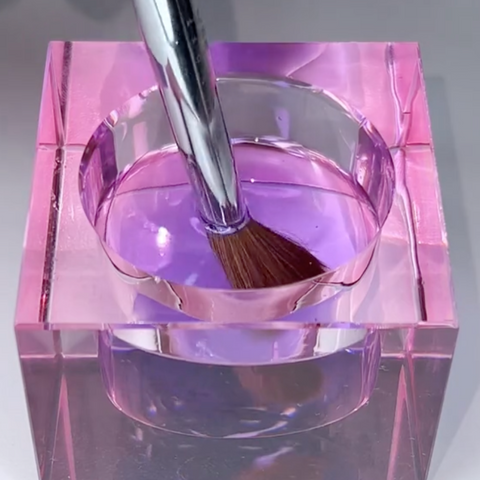 Fully submerge the 100% kolinsky brush in EMA monomer and tap off the side of the dappen dish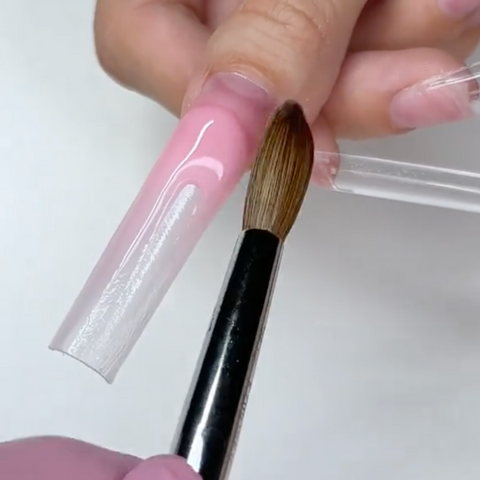 Apply the acrylic to the free edge of the nail to cover the length of the nail. Ensure to not drag the acrylic and focus on the tapping and swiping motion.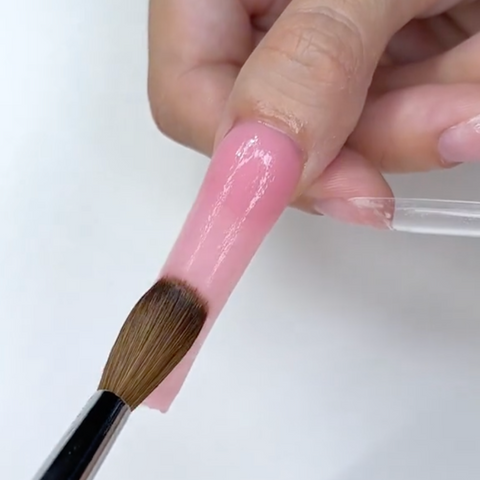 Apply the apex and cuticle bead with medium and small size beads and ensure that the apex is the highest point in the nail.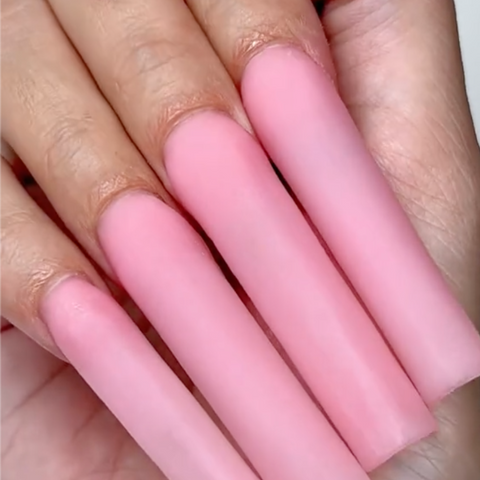 Allow the acrylic to dry by using a hand file to tap on the surface of the nail and listen to the click-y sound to ensure the acrylic is fully dried.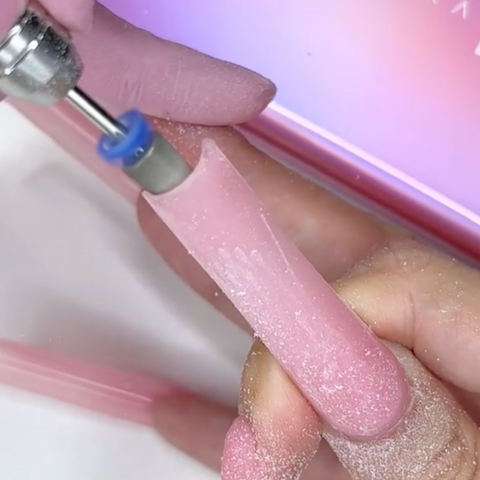 Use a hand file or 5-in-1 bit to shape the acrylic nail for a crispy, straight edge.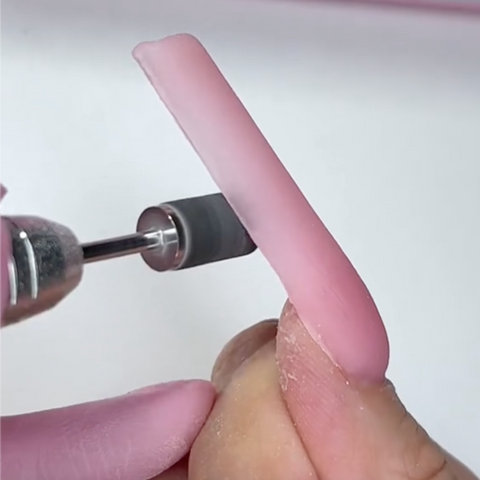 Use the sanding bit to smooth the surface of the acrylic nail and remove any bumps.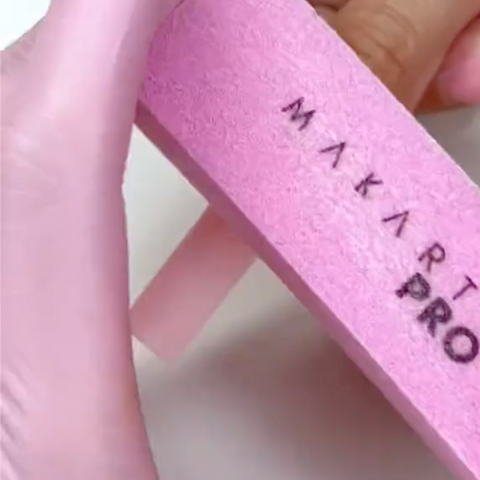 Use a buffer block to remove scratches and buff the surface for top coat or gel polish.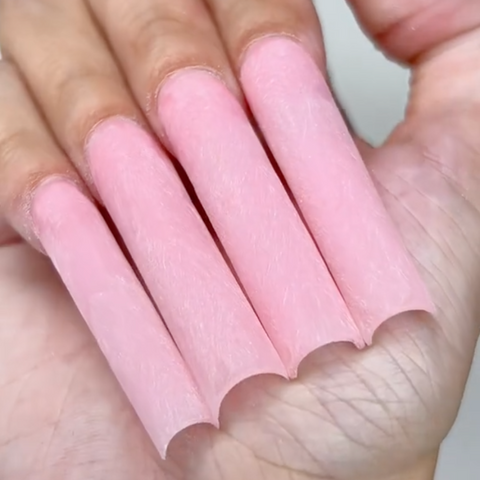 The nail is now ready for gel polish or top coat application.
Frequently Asked Questions
Are MakarttPro products suitable for both beginners and experienced nail techs?
Absolutely! MakarttPro products are crafted with versatility in mind, catering to both novice nail technicians and seasoned professionals. Whether you're just starting your journey in nail art or looking for advanced products to elevate your skills, MakarttPro has you covered with user-friendly formulations and professional-grade performance.
How does MakarttPro contribute to the safety and well-being of nail techs?
At MakarttPro, we prioritize the health and safety of nail technicians. Our products are formulated with high-quality, carefully chosen ingredients to minimize potential skin irritations and allergic reactions. Additionally, our acrylic nail system is designed for easy application, reducing the risk of overexposure and ensuring a comfortable experience for both the nail tech and the client.
Where can I purchase MakarttPro products?
MakarttPro products are available through our official website and authorized distributors. To ensure you receive genuine MakarttPro products and access the latest releases, we recommend purchasing directly from our website or from recognized distributors.
Are MakarttPro products vegan and cruelty-free?
No, MakarttPro products are not vegan. Similar to many other professional beauty brands, our formulations may contain non-vegan ingredients. However, MakarttPro is committed to being cruelty-free. We do not test our products on animals, ensuring the highest standards of ethical beauty practices.
Do you provide Safety Data Sheets (SDS) for your products?
Unfortunately, we do not provide SDS sheets for our products. However, we do offer information about the ingredients used in our formulations on our website.
Do MakarttPro products contain HEMA?
Yes, our products may contain HEMA (2-Hydroxyethyl methacrylate). It's important to note that the concentration of HEMA in our formulations is under 20%, meeting safety standards for professional use.
Total 5 star reviews: 7
Total 4 star reviews: 0
Total 3 star reviews: 0
Total 2 star reviews: 0
Total 1 star reviews: 0
100%
would recommend this product
Product Quality
Rated 5.0 on a scale of 1 to 5
Setting Time
Rated 5.0 on a scale of 1 to 5
Results
Rated 5.0 on a scale of 1 to 5
Ease of Use
Rated 5.0 on a scale of 1 to 5
Value for Money
Rated 5.0 on a scale of 1 to 5
MN

Maryelin N.

Verified Reviewer

Reviewing

Ultimate Acrylic Sculpting Starter Bundle

Run don't walk!

I've always loved Makartt products before they switched to makarttpro. And their previous acrylics were great but these new formulas are AMAZING 🤩. This sculpting kit comes with everything you need to start your nail journey at a reasonable price! You will NOT regret it!

Lucia

Verified Buyer

Reviewing

Ultimate Acrylic Sculpting Starter Bundle

A Nail Technician's Dream Kit

I've been using MakarttPro's acrylic sculpting bundle on my clients, and it has exceeded my expectations. The Barely There shade is versatile and complements various nail designs. The matte top coat adds a touch of sophistication to the final look. The included glitters are vibrant and eye-catching. I appreciate the quality of the nail files and buffer blocks, making the shaping process smooth and precise. This kit is a true dream come true for nail technicians!

Camila

Verified Buyer

Reviewing

Ultimate Acrylic Sculpting Starter Bundle

A Client Pleaser!

The MakarttPro acrylic sculpting starter bundle has been a hit with my clients! Ivory Lace is the perfect cover powder for clients looking for a clean and natural look. The top coat provides a long-lasting finish, and the glitters add a fun twist to any design. The sculpting forms are a real game-changer, giving me more control and flexibility during the sculpting process. I recommend this kit to all aspiring nail technicians.

Sofia

Verified Buyer

Reviewing

Ultimate Acrylic Sculpting Starter Bundle

Smooth and Professional Finish with MakarttPro

As a private nail technician, I always strive for a professional finish on my clients' nails. MakarttPro's acrylic sculpting bundle helps me achieve just that. The cover powder shades blend flawlessly, and the top coat leaves a glossy shine that lasts. I'm particularly impressed with the extra long sculpting forms, which provide added flexibility and support during sculpting. This bundle is a game-changer for anyone starting their nail career.

Isabella

Verified Buyer

Reviewing

Ultimate Acrylic Sculpting Starter Bundle

Versatile and Reliable Kit for My Clients

Working with the MakarttPro acrylic sculpting starter bundle has made my job as a nail technician so much easier. The range of cover powder shades caters to various skin tones, ensuring my clients' nails look natural and beautiful. The matte top coat adds a trendy twist to classic designs. The nail files and buffer blocks are of high quality, allowing me to shape and smooth nails effortlessly. My clients love the results, and I love this kit!
Reviews Loaded
Reviews Added